Don't we all love flowers in our homes. They are warm and bright and fluffy and happy and for most of us they are not available in our garden all year long! So what's a girl to do who loves the look of blooms and greens in her home and loves lots of them? The answer is to go faux! There are very impressive faux flowers on the market these days and if done right can fake out the best discerning eye. Here are a few diy tips and tricks to help you keep your home blooming all year!
I am thrilled to be a part of DIY TIPS AND TRICKS…SPRING EDITION!
Make sure you check out my blogging buddies who are putting their spin on spring diy tips and tricks!
The best advice I can give anyone when using faux blooms and greens is to buy the best fakes you can! This IS where to spend a little extra. It's really all about making an investment! If the flowers or greens look fake from 5 feet away… pass them up!
If you buy a little bit of faux each year soon… you will have a fabulous stockpile to work with. I look for end-of-the-season sales!
I feel small local shops are the best place to find great fakes. If you live in my neck of the wood go to The Old Millhouse Shoppes or Amy's Fresh Vintage or The Candle Barn. Great fakes at pretty good prices.
Use faux stems and blooms who's real counterpoint are in season. It's a dead giveaway if we have a huge tuscan jar full of sunflowers in March. If they were real, they would cost a small fortune!
Use faux blooms that are appropriate for what's blooming outside. I think the only exception are faux blooms that are examples of what we could get reasonably at the grocer's or local greenhouse.
Another exception… tulips! They are becoming the universal go-to bloom!
Another thing you can do to help faux bloom and greens and sticks and twigs look more life-like is to always "fluff" EACH STEM! If you plunk a pretty bunch of faux blooms in a vase they will look fake. Open some up, smooth out each leaf, bend each branch and intentionally place them in their container. A little extra care and faux can look quite real!
Look for blooms with varying colors.
Blooms that are all one flat colors will never pass a real! Also, flowers need to be in different stages of bloom… especially if they are cluster flowers. That's how they bloom in nature. A stem of completely bloomed flowers all the same shape and size just won't do!
Picking out the perfect container is very important when using faux flowers or greens, especially if they is glass. Try adding moss or smooth rocks to the bottom of a clear vase. It looks a whole lot better than bare leggy branches!
And as I always say, use what YOU love! It's your home and you should surround it with things that are beautiful to you and make your heart sing!!!
Please stop by and check out these wonderful diy tips and tricks…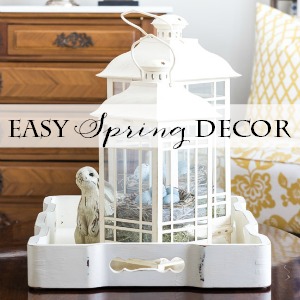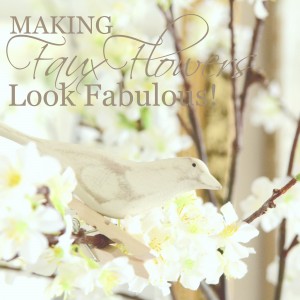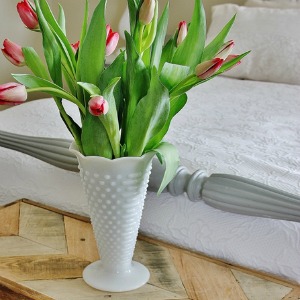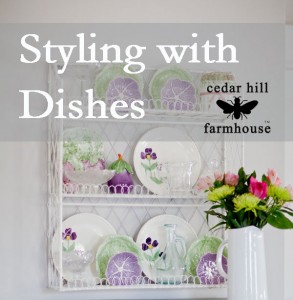 Remember to pin this to your Pinterest SPRING or DIY or DECOR boards. You can follow me and see what I've been pinning lately HERE.