GREAT WAYS TO USE BURLAP IN HOME DECOR
Some love it. Some hate it. Very few have no opinion at all. Talking about burlap is like discussing politics or religion… most of us have strong opinions about the virtues of BURLAP! It's my humble opinion that burlap is here to stay. It's the new classic. So let's embrace it… gently… and use it to embellish our homes. We don't have to cover our walls with it, but a little accessorizing with burlap can update and breathe a little new trendy life into a room!
Burlap is a fabric woven from the skin of the jute plant or sisal fibers. It has a rough texture and a distinct odor, so it does not make a great fabric for any decor that will come in constant contact with our skin and clothes. But it is very inexpensive and simple and has a wonderful hand, so it's perfect for home decor accents!
Burlap can be very rustic or upscaled to something quite elegant! Because of it's versatility, it's become a decorator's favorite go-to fabric!
Here are some helpful tips when using burlap in our decor!
KEEP IT SIMPLE
Because burlap is a very straightforward, simple fabric… it is what it is… burlap works best in accent decor. Yes, you can cover a chair or a sofa but it really shines in a more supportive decorating role.
BURLAP TABLE RUNNER
An great way to ease into the land of burlap is to use it as a table runner! It makes a fabulous, neutral base when we want to layer on top of it! I like to choose a stiffer burlap that does not shed too much for table runners.
Make your own woven burlap table runner using wired burlap ribbon. It's easy and sheds less than than using burlap from the bolt. You will love how it adds texture and interest to your decor! See how to make a WOVEN BURLAP RUNNER, HERE.
BURLAP PILLOWS
Burlap pillows can add a great trendy element to our decor. I adore pillows… and burlap pillows top the list! Yes, they can be a tad rough, but mostly they play so nicely with almost any decor. And why? Because they can be up or downscaled to suite the season, our decor and our mood!
Burlap comes in so many different colors and patterns, like the burlap flower on the pillow below. So if you are not a fan of simple plain burlap try something more colorful and refined!
To learn how to make this NO SEW BURLAP FLOWER PILLOW, click HERE.
Try at least one burlap accent pillow! I bet you will love it!
BURLAP CURTAINS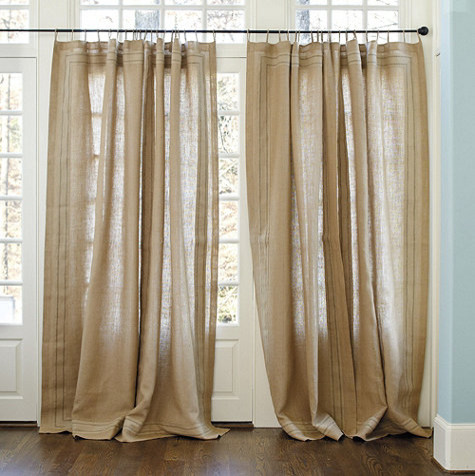 Burlap is a perfect fabric for curtains. They hang well and are light filtering! And burlap curtains curtains are so neutral. Perfect backdrop for any decor! Just look at how dressy these curtains from Ballard Designs look. Just stunning! I would use these in any room in my home! I think they are exquisite!
BURLAP LAMP SHADES
I must admit, I love love love burlap lamp shades! They are my go-to shades for most any lamp. I love the way the light filters through them and how textural yet neutral they are!
If you want to use a burlap lampshade make sure to get a clear lightbulb so you don't see the bulb through the lampshade when it's not on.
If you want a lampshade that makes a statement try a patterned burlap lampshade! Don't you love the ruffles? To make this very easy and sassy
NO SEW RUFFLED BURLAP LAMPSHADE
click
HERE
. I bet you have an old lampshade laying around. Here's a great way to recycle and upcycle it!
COVERED BURLAP BOOKS
Decorating with books is a great way to amp up your style!!! Books can work in vignettes, as risers and so much more. And if they are burlap books… WOW! Talk about texture and versatility!
Choose a simple, neutral burlap or go a little more daring with a fun print!
BURLAP BANNER
Banners are a quick and fun way to bring a little of the season into your home! And what's more popular than a burlap banner right now? Use them to mark a celebration like a birthday or add them to the decor you already have to call attention to the season. If you are not ready for a lot of burlap in your home this is a great way to ease into burlap!
My favorite place to use burlap banners in my home is on my mantel and mirrors!
BURLAP WALL ART
Add burlap to wall art. It make such a fabulous, neutral background to any 3D art! There are so many possibilities!
BURLAP WREATH
If you still aren't sold on using burlap in your home, how about putting it on your front door? Burlap wreaths are big and fluffy and make a big welcoming statement! They are also very hardy and can take a little bit of the elements!
And a burlap wreath can be embellished for any season! To make this
BURLAP WREATH
click
HERE
.
There are so many great home accents that look fabulous dressed in burlap. Burlap is here to stay… so let's not forget to add a piece or two to our home decor!!!
How about you? Do you love it… or not so much? What burlap home accents do you have? And what would you be willing to try?
Let's share!
You can follow me on Pinterest and see all the great things I'm finding to pin daily
HERE
.