Welcome to The Scoop, friends! I'm so excited that December has finally arrived. I think I love almost everything about December. The brisk weather, the promise of the first snow, decorating and celebrating the true meaning of Christmas. Even the afterglow of Christmas and looking forward to the New Year is wonderful! And our participating bloggers have brought the best of December and Christmas together here! let's have a December party right now!
This year our family, (14 in all) kicked off the Christmas season by going to the Gaylord Hotel in the National Harbor in Mayland just outside of Washing DC to see the "Christmas Ice". Bigger than lifesize ice sculpture in a town-like setting. This year's theme was a Charlie Brown Christmas. Oh, was it delightful! There was even an ice slide that my baby Anderson just loved! And at the end of the displays was a lifesize clear ice sculpture of the entire nativity. It was so beautiful it was hard for my mind to take it all in. What a masterpiece! If you live in driving distance from the National Harbor Christmas Ice is so worth the trip.
And yesterday my Mother and I went to see the Victor Yeliohim International Academy and the Donetsk Ballet Company of Ukraine put on the Nutcracker Ballet. I love ballet and this production did not disappoint. My daughter, Jacqueline danced in the Nutcracker with this company for years. It was a joy to relive those precious memories and to make new ones with my Mom.
My schedule here at StoneGable is crazy busy! As bloggers, we are a bit frazzled from the beginning of November until just before Christmas! And I am sure many of you are too! All of this to say, take the time to enjoy what blesses you and makes you slow down and enjoy the beauty of this special season! Even if it is a special cup of coffee rocking on the porch when it is snowing or listening to Christmas music while decorating. Destress and be blessed! And remember to always keep the real meaning of Christmas, just like Chalie Brown, close to your heart!

Welcome back to The Scoop!
The weekly party featuring the scoop on the best from around the web!
We are
Yvonne from
StoneGable
and Suzy from
Worthing Court
Our host this week is Debbie at
Confessions of a Plate Addict
Hi everyone and welcome back to The Scoop! we are so glad that you are joining our party! There's lots of excitement at my house now that December has arrived. The house is all decorated and the little grands are counting down the days until Santa arrives. I have to admit that I love seeing Christmas through their eyes!
And now that the major decorating is done, it's time to put on a few finishing touches so I am sharing my
15 EASY IDEAS FOR CHRISTMAS
with a little bit of everything from giving makeovers to a dollar store snow village and nativity to ornaments and candles that are easy to create. I hope you'll check them out!
Here's what your hosts are sharing this week…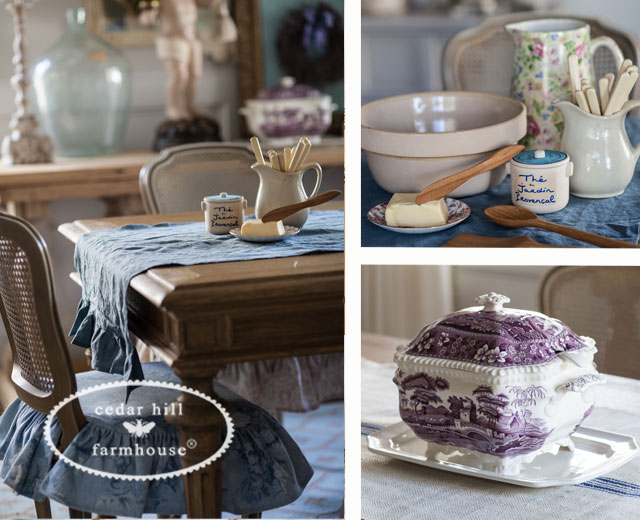 And here are just a few of the things that caught my eye last week…

PRINTABLE CHRISTMAS GIFT TAGS from Taryn Whiteaker
CHRISTMAS MANTEL WITH SNOW GLOBE CLOCHES from So Much Better with Age
RED AND WHITE CHRISTMAS TABLE from Celebrating Everyday Life
DECORATING YOUR OUTDOOR SPACE FOR THE HOLIDAYS from Timeless Creations
Now I can't wait to see what you are sharing so let's get started!