Hi Scoop friends. So glad you're with us this week. I have some big, big news I want to share with you! Did you know that I have a new decorating Podcast? Well, not just me! I share the mic with our Anita from Cedar Hill Farmhouse and our bestie Kelly from My Soulful Home! We are dishing about all thing decorating and giving our listeners tons of laughs and tips and inspiration for your home! You can also hear our voices and the great friendship we have together! I hope you will join us at Decorating Tips and Tricks.
You can find links there for all the podcasts and links to get our podcast on your iphone or android so you can listen on the go! Here's our first podcast and our "ABOUT US" edition! I hope you enjoy it! If you want to hear more go HERE. Every Monday, Wednesday and Friday we will be sharing a new podcast edition about decorating!
Your hosts are happy you are here!
We are
Here's what your hosts are featuring this week…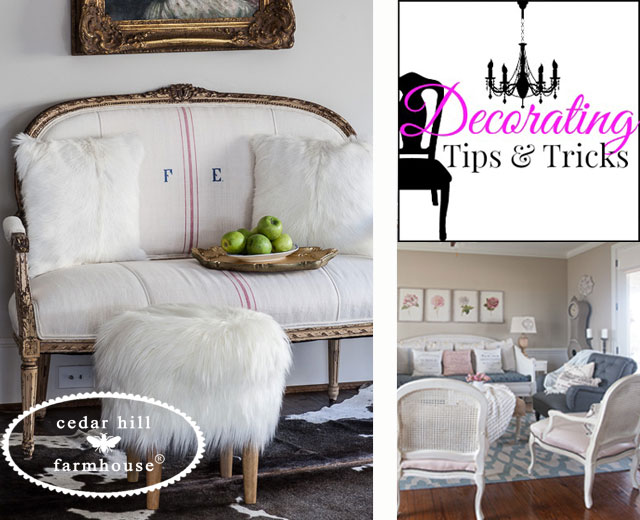 FAUX FUR FOR HOME DECOR || DECORATING TRENDS 2017
ADDING TAILORED CHAIRS TO A FARMHOUSE || WE HAVE A NEW PODCAST
$100 MAGNOLIA MARKET GIFT CARD GIVEAWAY || MY FARMHOUSE STYLE OFFICE MAKEOVER – BEFORE AND AFTER
VALENTINE'S DAY DECORATING MADE EASY || HOW TO BUILD A FARMHOUSE BLANKET LADDER FOR UNDER $20
TEN SURPRISING PLANTERS FOR YOUR SPRING FLOWERS || BASKETS…COUNTRY FRENCH STYLE || VINTAGE FRENCH VALENTINE PILLOW

What a love-ly I LOVE YOU FREE PRINTABLE from Ashley at Simply Designing. Wouldn't the folks in your home l-o-v-e this!
We all love "reveals" and here's a great one from Sara at Twelve on Main. Check out her BUDGET BATHROOM MAKEOVER! She did it for under $90.00! Amazing!
Oh my Yum! I have such a crush on hand pies. And aren't these HEART SHAPED CHERRY HAND PIES just adorable? See them at Crafts A La Mode!
Need a little drama in your life? Here's a fabulous and fun way to get some. Jenna's CRISS-CROSS ACCENT WALL is gorgeous! See it at Rain On Tin Roof!
Angie from Knick Of Time creates beautiful diy's! Like this LAZY GIRL'S GUIDE TO MAKE A FARMHOUSE QUILT BLOCK SIGN. She has a step-by-step tutorial. I love these.
Now let's party!!!!