You have come to the right place today! I have a post that will help you collect pillows to make the most fabulous arrangements on your sofa! Do you often look in magazines and sigh at how beautiful the sofas look with their gorgeously arranged pillows and say, "I wish I could do that?". Well, YOU CAN!!!! It's not magic and you do not need a degree from design school to have the prettiest pillow arrangements in your town! With a little thought and practice I'll show you how to build the perfect pillow collection just for you! Let's get started!
IT'S ANOTHER MONTHLY POST… DIY TIPS AND TRICKS. 4 popular home decor bloggers, 4 unique view points, 1 topic and lots of tips and tricks!!!
This month's posts are all about ARRANGING PILLOWS!
Make sure to check out my DIY TIPS AND TRICKS buddies at the end of my post.
There are many ways to arrange pillows on a sofa, but for today we are going to concentrate on the most classic and the hands-down most eye appealing arrangement… THE FIVE PILLOW ARRANGEMENT.
It would be a great idea to head over to my post 5 NO FAIL TIPS FOR ARRANGING PILLOWS to see a primer on pillows and arranging them. I take a bare sofa and add a pillow at a time to show you how it's done! I also give you lots of tips along the way! After you have read that post, come on back and read today's.
Do you know what a "default setting" is? It's a computer science term, but I'm using it as a safe, tried-and-true way to do something that works… every time! Let's make a "default pillow setting" for our sofa.
Here is MY default pillow setting. There's that perfect 5 pillow arrangement! Seriously, this IS the way to start!
This arrangement is comfortable and accents the rest of my room! If you come to my home, chances are you will see this pillow arrangement on my living room sofa. I love neutrals, whites and a good dose of black. It's calm with a little drama around the edges! LOVE that!
So, to arrange pillows like a pro find a default setting. Chances are you will feel very comfortable with this 5 pillow arrangement! For certain it will not look like mine, but the arrangement will be the same. You will add you own personal style and a style you lean towards in that room. For this room the arrangement is pretty traditional. I like that for my living room. My family room and sitting room sofas are a totally different story! Same pillow arrangement but very different feel.
Now let's talk pillows…
Choose 2 large 24 inch pillows for the outside of your sofa. Choose 2 medium 18 0r 20 inch pillows to go next to them and a long 20 x 26 inch pillow to sit in the middle of the sofa! If creating a fabulous pillow arrangement for your sofa is sort new to you, keep your colors solid and it would be a great idea to keep pillows neutral.
This is where playing with pillows comes in. I can't tell you how many times I have taken pillows back to the store, because they are not "just right"! You want to play with your pillows until they are "just right" for you. When this happens you have your DEFAULT PILLOW SETTING! Hurrah, I knew you could do it!!!!!!
From a default pillow setting you can take the next step… BUILDING A PILLOW COLLECTION!
Here's what my "next step" looks like:
I chose a color that would work with my living room and added it to the pillow arrangement. What I do on one side of the pillow arrangement, I do on the other!
Now let's take it a little farther and build a whole pillow collection from green and blue and neutrals that work with my living room… oh, yes! Let's get colorful!!!!
The solid green pillows were turned around so the buttons are now on the back of the pillow! Great trick, huh?
With just a few pillows you have a collection of neutrals, greens and blues that can be used in so so many ways!
Here are just a few combo's that tweak the 5 pillow look and use our pillow collections…
What's next? Try another color or a seasonal motif that will go with your other pillows. I'm thinking about adding a burnt dark salmon or aqua. I think these colors will work with what I already have!
How about you? Are you ready to take the plunge into the pillow pile? C'mon! I know you can do it!
Let's review:
1. Find your DEFAULT PILLOW SETTING
2. Take your time and practice! Don't be afraid to return pillows that are not "just right" for your taste and decor style!
3. Add another color or two.
4. Mix and match
5. Tweak the 5 pillow arrangement and see what you can come up with!
6. DO WHAT YOU LOVE!!!!
When you've got these steps mastered your pillow collection will look like a pro did it!
NOW GO AND JUST DO IT! YOU KNOW IT WILL BE AMAZING!
Once you have your default pillow setting down… you can venture out and put 3 pillows in one corner of the sofa! SHOCKING! lol!
Let' me know what you think… what neutral colors would you start with… what accent color would you use! LOVE to hear your thoughts!
Head over to see more about arranging pillows from 3 of my blogging besties!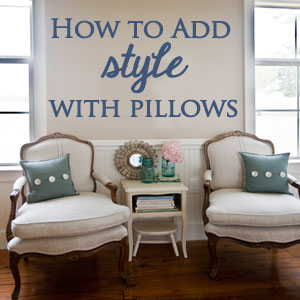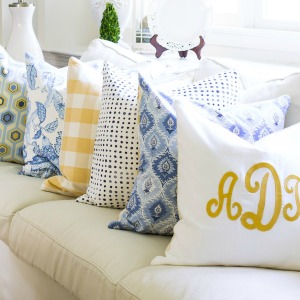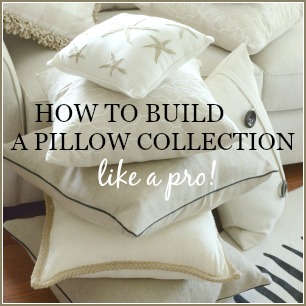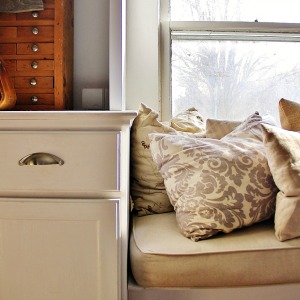 Remember to pin this to your DECOR or PILLOW Pinterest Board! You can follow me here and see my PILLOW LOVE Pinterest board HERE.