I have been working on this guest bedroom for about 2 years! And I have gotten very little done. There seemed to always be some other thing with a higher priority. Since we now have 4 guest bedrooms, because we have no children living at home, I have not been in a huge hurry to do much with it. I did get a great mattress and a good bed frame and a custom made dust ruffle (because this bed is high)… but then I stopped! One of the first things I decided to do this year was to finish decorating this guest room. For me, a new bedroom always starts with inspiration! Let's talk about finding inspiration… and a few other tips!
I'm so happy to be a part DIY TIPS AND TRICKS. Each month 3 fabulous bloggers and I try to give you our best tips and tricks on a decorating subject. This month our subject is…
Beds, Bedding and Bedrooms! Make sure you check out the other posts… they are wonderful!
When I decorate any room it always starts with some kind of inspiration! Something that catches my eye or a color I love or a piece of furniture or an idea I want to make a tangible reality. And from that inspiration I build the rest of the room.
Because bedrooms are such personal spaces, I think finding something inspiring to start with is particularly important when decorating them! And because they are usually contained spaces, not open to other parts of our house, bedrooms can be totally different from the rest of our homes! This is a room that you can let your imagination inspire you!
The guest room I am working on was my son Christopher's room. I asked his wife what she would want this room to look like, as they stay there when they spend the night, and she said chippy, shabby chic, not pink and NOT ruffly. I know she loves shutters and chippy paint so I was on the lookout for something that I could build this room around. It took about a year to find something that I thought was the perfect inspirational piece for this room!
Here's the inspiration for this bedroom…
I found three wonderful, old shutters at my favorite local antique haunt. They will be what the whole guest bedroom will turn on. Everything that goes in there will be dictated by these shutters!
They became a headboard.
The "feel" and colors for this room are right there in their fabulous chippiness!
My best tip for decorating a bedroom, or any room for that matter, is to find an inspiration and stick to it! It's the best way to begin. It will help you focus in on the style, feel, look and colors you will use! Stay true to your inspiration.
The shutters had a good deal of chippy white, brown, gray and blue in them. So I will work with those colors to use in the room. That means the wall color needs to change. I'm thinking of a dove white… or maybe a creamy white… or …? I have a tough time picking out paint color. ESPECIALLY WHITE!
I want the shutter headboard to shine and be a focal point in my guest room, so the rest of the room will stay "calm". Nothing loud or overpowering. White quilt and shams. Blue pillow ticking too. They are staying in the room. The other pillows are from other areas in my home and are being tried out. I'm not fond of the different blues together. They will go. I'm thinking the pillows need to be quiet and soft too, but maybe a little richer. Charcoal grey or even a dark burlap. And not patterned. Solid… maybe with some writing on it.
Here's another tip. Use things from around your home in a bedroom (or other room) you are decorating. That way you can try out colors, textures and form in your bedroom. I tried pillows in different blues and in a busier pattern from here and there in my house and found that adding more blue and more patterns was not the direction I wanted to go. It's great to know that "more blues" won't work. Now I'll find a burlap backed pillow and a charcoal colored napkin to draped over a pillow to see how they work together. I'm even thinking about putting a marigold gold napkin over a pillow too to give that pop of color a try. Not quite sure I want to go in that direction, but it's worth a try! This is an easy way to have a good visual of what will work and what will not.
It will help you edit what you like and don't like before you buy.
The grey drapes will stay. The rabbit picture will stay too! I think they both compliment the headboard.
So let's review…
1. Find an inspiration… ALWAYS start here!
2. Use items around your home to help you know what you like in your room. Edit, edit, edit!
3. And here's the last tip… take pictures of your room! You will be amazed what the camera can show you that your eye can't see! Let the image help you decide what you should keep and what needs to be changed.
I'll be working on the guest room from now until spring… keep looking for updates!
Now, go check out other great tips and tricks about BEDS, BEDDING AND BEDROOMS!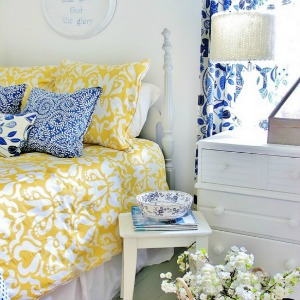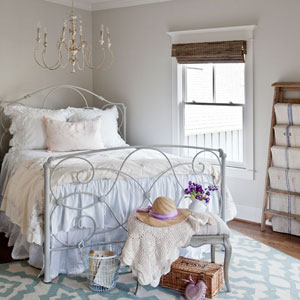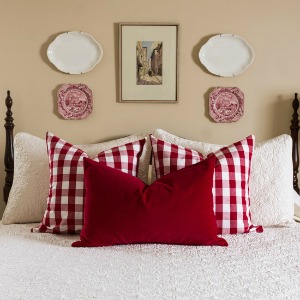 You may want to pin this to your Pinterest DECOR or BEDROOM board. Follow me HERE and see all the bedroom pins I'm pinning!