I've had years of experience decorating fireplaces and mantels! Unfortunately, most of them were not good! I think decorating a mantel is one of the hardest things to do well! First of all, it is a focal point for sure!!! All eyes naturally go to a fireplace. And then most fireplaces have a big hole in the middle of it when not filled by a roaring fire. So unless you live in a cold climate, at least half of the year you have a big black hole in your wall! And then there's that skinny ledge thing! But, not to worry… I've learned lots and lots about making the most of fireplaces and mantels over the years and I'm sharing some of tips and tricks today!
It's another segment of DIY TIPS AND TRICKS!!! The subject this month is FIREPLACES. Make sure you stop by my fellow DIY AND TIPS bloggers for their spin and decor wisdom on this subject!!! I can't wait to see what they say!!!! Find their links at the bottom of this post!
Here is my attempt to decorate may mantel in Fall of 2012… not that long ago!!! LOOK QUICKLY…then look away!
I know!!!! HORRIBLE! I told you I had a hard time with mantels! And that's not the worst of it. My fireplace had big shiny brass grates over the front of it!!!! All that clutter and out-of-date decor made it hard to see the beautiful, custom made millwork!
I knew I needed help!
Sooooo I studied every fireplace I loved on blogs and Pinterest and updated and practiced and arranged and rearranged… and here's what I found…
Here's my first tip and the one that will make the biggest difference… get rid of dated brick, marble, stone, slate,paint or anything that makes your beautiful focal point look tired and dated. This might be a lot of work, but it is so so worth it! An updated fireplace can help make a whole room look more chic!
At first I was going to paint the green marble surround (circa 1990's) and that would have been a great and inexpensive option. But I priced having the surround resurfaced with a brick facade and it was pretty reasonable and gave me the exact look I wanted! So I went with that option!
That one improvement made a HUGE difference.
(Now we are not concentrating on the other faux pas in this picture… just how different the surround looks)
Now let's address all that shiny brass! Boy, does that date this fireplace! And there is such an easy-peasy fix! Paint it!
My brass grates slipped off the front of the fireplace easily and I used a flat black spray paint made for HIGH HEAT areas. In a couple of hours I had the grates back on and they sorta disappeared!
I feel like I should say TA-DA after each improvement!
TA-DA!
The next thing I noticed on my search for a great looking fireplace was that none of the fireplaces and mantels I loved had a huge mirror going across the length of the mantel. Not surprising… because a mirror hung that high only reflects the big vast ceiling! Not very interesting… at all! So I say, "Take big mirrors down from your mantels, America!".
I bought a oversized clock on sale at Ross' for the center of the mantel. It's much more handsome than a big reflection of my ceiling! And makes a big statement too… and only $67.00 (over $350.00 retail). I love love love a bargain!!!
About that same time I painted my boring lamps and got new shades for them and found 2 great black chippy shutters for the mantel too. To see how to fit shutters to almost any size click HERE.
TA-DA!
No more little items strewn across the mantel. A fireplace is a big thing! So use big bold pieces!
TA-DA!
Here's another big statement piece I added this Christmas… an old, chippy window! Large enough to hold it's own on the mantel… as long as it has something big on it!
TA-DA!
Now let's address the big elephant sitting in my family room! The hole in my wall from the fireplace when it's not in use. I'm filling it with some great Christmas decor now.
You will have to keep you eye open for what's coming in the spring!
Put a large basket, a great vintage piece, subway art, a grouping of big candles. ..something that fills the hole and makes it look interesting!
TA-DA!
BEFORE AND AFTER!
My fireplace has certainly improved in a couple of years with lots of pouring over pictures of beautiful fireplaces and mantels and lots of updating and arranging and rearranging!
If you are like me and think a fireplace tend to be a testy area to decorate I hope this has helped!!!
Do you have any tips for a great fireplace? Please share!!!!
Now check out these great posts…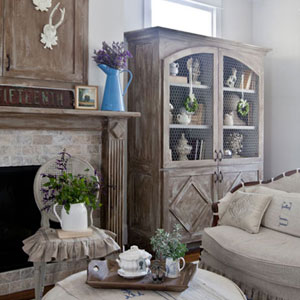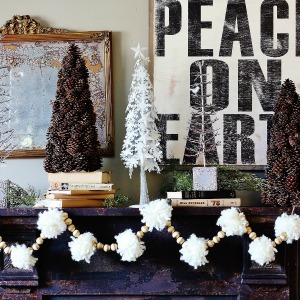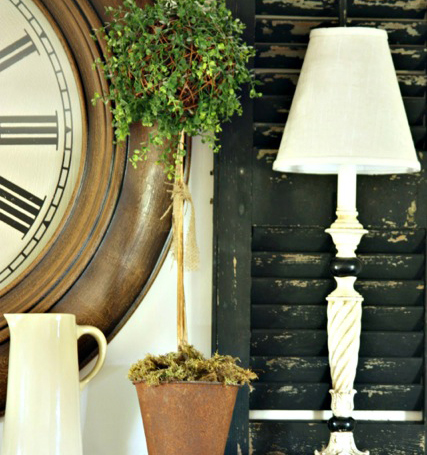 STONEGABLE … ME!
You may want to pin this to your Pinterest DECOR or DECORATING boards. You can follow me on Pinterest HERE and see what I'm pinning!!!!