Easter is the time to pull out spring decor and eggs… lots and lots of eggs. I've colored eggs and covered eggs and everything in between! They show up in nests and in teacups and in baskets and bowl at StoneGable! I have marble eggs and silver eggs and porcelain eggs sugar eggs too! Today I'm sharing a very very easy, no cost way to decorate Easter eggs! Book page Easter eggs! They are pretty and totally different than the usual pastel eggs we see this time of year! Now is the perfect time to make them! And don't forget to enter the giveaway at the end of this post!
Today I am celebrating Easter with some of my favorite bloggers, all bHome bloggers! A big thanks to Jennifer Carroll from Celebrating Everyday Life With Jennifer Carroll for putting this tour together! IT'S SOOOOO PRETTY!
The Easter ideas are stunning and so creative! Please check out each post at the end of this page!
Let's make Book Page Easter Eggs!

This is such an easy-peasy way to decorate Easter eggs! Even if you are not crafty YOU CAN DO THIS!
Here's what you will need:
blown out raw eggs
pages from a book, cut into thin strips
Mod Podge
paint brush to spread Mod Podge
wax paper
twine
embellishments
Blow out raw eggs and let them dry. I tore out pages from an old book and cut the book pages into thin strips according to each line of writing. Then I used Mod Podge on a small paintbrush and glued the book page strips onto an egg. I worked 6 eggs at a time gluing several strips at a time on each one and then doing to same to the next egg, and so on, to let them dry. Don't glue in any particular way. Best if it is random.
I chose to use the whole page that included some white space because it makes the overall look of the eggs lighter. You can use only the print if you don't care for the blank spaces.
When I started using Mod Podge on the eggs I put them on a piece of wax paper so they would not stick. As I layered the strips of book paper on the eggs I added a little extra Mod Podge on each egg and gently smoothed the paper out with my fingers.
When the entire egg was covered with book page strips and smoothed with Mod Podge I let it completely dry.
These eggs look so pretty just as they are, but I wanted to add a little embellishment to them.
I wrapped a piece of twine around the egg three times and tied it into a knot. With some eggs. I stamped an initial on it for each of my family's names and hot glued a little white flower or bud sprig.
I hope you give these pretty Easter eggs a try! Just think of all the different ways they could be embellished!
StoneGable Tip: Save the egg carton the eggs came in. Mark it with BOOK PAGE EGGS and use the carton to store the eggs in after Easter!
Now for the GIVEAWAY!
Here's how to enter… Go to April Cornell and find the pattern or product you like the best. There are so many gorgeous ones to pick from! Come back and tell us about it in a comment! You will be entered to win!
The winner will be chosen at the end of the week and will be notified by email. How fun!!!!
Oh, and you can listen to DECORATING TIPS AND TRICKS SPRING EDITION of our podcast below… This podcast is full of spring ideas and inspiraton!
I hope you will visit all these beautiful, Easter inspired posts!
Monday
Celebrating Everyday Life
Cupcakes and Crinoline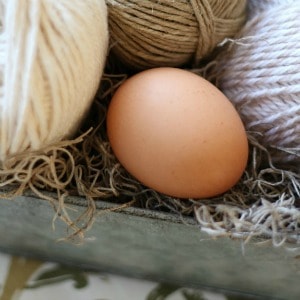 My Soulful Home
She Holds Dearly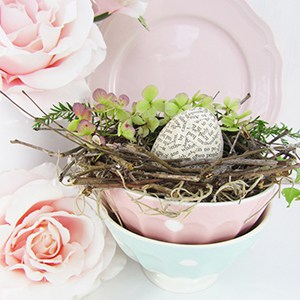 Shabby Art Boutique
Tuesday
Redhead Can Decorate
Garden Therapy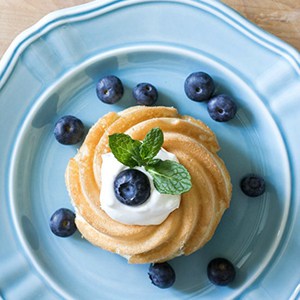 On Sutton Place
Debbiedoos
Wednesday
StoneGable
Housepitality Designs
FrenchGardenHouse
Duke Manor Farm
Love of Home
There's too much spring inspiration to let it go!!!! Make sure to pin it! And follow me on Pinterest and see what I'm finding to pin on my "SPRING" board HERE.