A perfectly placed plant can bring life to a whole room! Literally! Plants should not be an overlook element in creating a warm and inviting room. Our eyes will search out plants and key in on them. But, a little pop of green from a hip houseplant goes a long way. Striking a balance of just the right amount of greens in a room and an ideal plant size for each plant is a big key for keeping green plants a cohesive and striking part of a room's decor and not a jungle!
Today I am part of …
Make sure you check out the other Budget Decorators at the end of this post!
Here are 5 reasons plants should be used in our decor!
1. PLANTS ARE BUDGET FRIENDLY!
This is a very big reason to use pretty houseplants in our homes! Yes, they can give us years of eye-candy if cared for properly! I once had an asparagus fern that lived over 10 years! That's longer than I had a lot of furniture! That asparagus fern was not the norm, however. I like to look at a house plant as a long-term flowers… very long term! If I get a year or two or three out of them and they look fabulous, then they are winners!
But, here's the thing about keeping pretty plants… choose plants that will actually thrive in your home's conditions. I am a sucker for rosemary topiaries but they never last a very long time in my home. We keep our home too cold for them to survive. I'm always so disappointed when their needles start to shrivel and fall off. I should know better! My home is much more suited for hearty fern varieties.
2. PLANTS CAN ADD HEIGHT, SOFTNESS AND ARCHITECTURAL ELEMENTS TO A ROOM
Plants can soften corners in a room, add much needed height to a table, accent a stack of books, hide a room's less attractive features and become room dividers. That's a pretty tall order, but the humble houseplant is up to the task! Call on plants to add an organic architectural layer!
Remember to fit each plant carefully with a worthy container. This will also become part of the plants overall "look"! I like to keep plants in plastic or terracotta pots that have great drainage and add that pot to a bigger container. I would never plant an unsuspecting green living plant directly into a container without drainage. Add stones, moss or even small decorative eggs to cover the dirt.
3. SOME PLANTS ACTUALLY CLEAN YOUR INDOOR ENVIRONMENT
Plants like orchids and ferns and peace lilies actually work 24/7 purifying the air we breathe! Not only are they beautiful additions to our homes but they are busy little air filters too! Orchids actually give off oxygen at night. They are a perfect bedroom buddy!
I'm thinking an orchid might be my new go-to housewarming gift!
4. SOME PLANTS ARE EDIBLE AND WORK GREAT IN A KITCHEN
Let's hear it for herbs! They are green and although not technically a "houseplant" they are often brought indoors to be snipped and enjoyed in cooking!
Nothing makes my heart sing like a box of herbs in late winter to smell and enjoy until they can be planted outside! They are like a promise of things to come!
Herbs are certainly not long lasting, but get big kudos for their delicious, soul-healing qualities! Well worth having them indoors for a short time!
5. PLANTS CAN GIVE US A SENSE OF WELL BEING
Tending and puttering and keeping a plant healthy and happy can make us happy too! Taking care of living things is good for us and gets us in touch with nature… even if it's an indoor plant!
Just remember that houseplants are not one size fits all when it come to care. Know what each plant needs to keep them healthy. Pick and prune and transplant and water and feed and get dirt under your fingernails! It might just be what you need too!
And don't forget to sing to your plants… they will think you are a rock star!
OKAY NOW I NEED YOUR HELP! Please leave a comment and give us some of your best tips for indoor plants and what plants can grow successfully indoors! Thanks!
Now, check out the rest of the BUDGET DECORATING POSTS…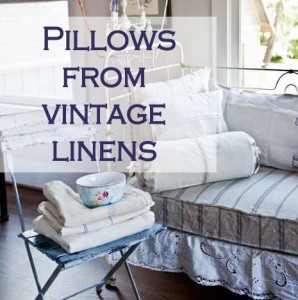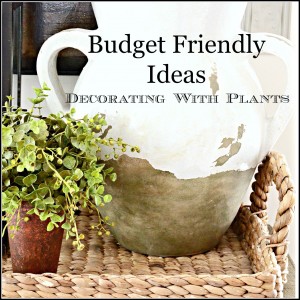 Just a reminder that the …
Is in day 2! You will want to visit these fabulous blogs and see their spring mantels too!
Remember to pin this to your DECORATING Pinterest board. You can follow me and see all the fun things I'm finding to pin HERE.